Missouri Department of Transportation Manual on Commercial Driver License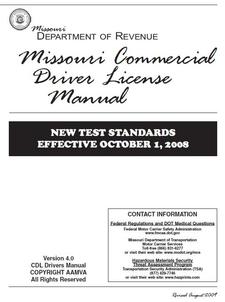 There is a federal requirement that each state have minimum standards for the licensing of commercial drivers. This manual provides driver license testing information for drivers who wish to have a commercial driver license (CDL). This manual does NOT provide information on all the federal and state requirements needed before you can drive a commercial motor vehicle (CMV). You may have to contact your state driver licensing authority for addition information.
Complete the form below to receive your free copy of the "Missouri Commerical Driver License Manual".
Order This Offer