James Girards
List All Members | General: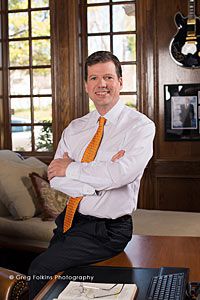 James Girards grew up in Houston, Texas, where he graduated from Stratford High School in 1981. Upon graduation, he attended Baylor University where he received a Bachelor of Science degree in Biology. He went to St. Mary's University School of Law in San Antonio, Texas where he received a J.D. While at St. Mary's, Girards made the Dean's List and was awarded the AmJur Award in Contracts.
Girards began his legal career in 1989 in Dallas, Texas, where he went to work as a medical negligence attorney for one of the largest plaintiff's firms in the southwest. He won his very first medical negligence trial in a case against a North Dallas diagnostic facility that injected a lady with a dye that she wasn't supposed to have. The verdict included a significant punitive damages award, which was very rare at the time. "That case was instructive on many levels," says Girards, "but, the most important lesson I learned in that trial is that the case is about the client and the focus must never stray from that."
Within a few years, Girards became Board Certified in Personal Injury Trial Law by the Texas Board of Legal Specialization. This is a distinction that only 3% of attorneys in Texas have achieved. In order to become Board Certified, an Attorney must have extensive trial experience, and must demonstrate an extensive knowledge of the law of evidence, procedure, and other substantive law involved in the trial of personal injury cases. The attorney must also pass a rigorous examination and is subjected to scrutiny by his peers. Upon achieving Board Certification, the attorney is presented with a Certificate of Special Competence.
Girards was named a Texas Super Lawyer each year since 2004. This is a distinction presented by Texas Monthly magazine, after subjecting attorneys to a peer review process, as well as review by a blue ribbon panel of evaluators.
Throughout his career, Girards has been involved with the American Association for Justice [formerly Association of Trial Lawyers of America], as well as the Texas Trial Lawyers Association and the Dallas Trial Lawyers Association. In each of these organizations, Girards has been involved in legislative and political issues on both a national and local level. Girards is a past-Chairman of the State Delegates Committee of AAJ, and is a member of the Medical Negligence Information Exchange Group. He is a past-Governor of the American Association for Justice and is a past-Chairman of the Interventional Cardiology Litigation Group of AAJ, which is the premier nationally recognized group of lawyers who handle cases involving catastrophic injury or death resulting from cardiology malpractice. He has also been past-Chair of the Pharmacy Liability Litigation Group, which is the premier nationally recognized group of attorneys who handle cases involving catastrophic injury or death resulting from pharmacy malpractice. Locally, he has been a Director of the Texas Trial Lawyers Association and is a past-President of the Dallas Trial Lawyers Association in 2007.
Girards is a frequent speaker to attorney groups on issues of trial advocacy and trial presentation and he is a graduate of Gerry Spence's Trial Lawyers College. Girards is also a member of the Million Dollar Advocates Forum, an organization for attorneys who have proven success in recovering damages in excess of one million dollars. And, he is a member of American Mensa, the international high IQ society.
Some of Girards' cases have been the focus of local or national media attention. For example, the case of Hernandez v. Altenberg was covered by NBC's Dateline. "When Dateline called regarding the Hernandez case, I thought it was important to help bring the tragedy of that case to the public's attention," says Girards. In the Hernandez case, a metal guide wire was inserted into an artery in an elderly patient's neck in order to place a catheter, but the guide wire was lost by the physician. According to the Texas Appellate Court that considered the case, "the patient and her family were given false information about the need for another fictitious operative procedure as an excuse for removing the wire." An anonymous letter to the family first disclosed the problem and the resulting injuries. "The case exemplifies so much of what is wrong in the hospital industry today," Girards said. "It is the only industry that is allowed to keep such things secret from patients and their families," said Girards, "but we were able to expose what happened to Ms. Hernandez and change a number of processes at that hospital. We also achieved an important development in the law of spoliation of evidence in Texas.
In 2017, Girards was invited to make a presentation to St. David's Medical Center in Austin TX titled, "Protecting Patients from HCP Substance Abuse" as a result of his pursuit of a case involving Christopher Duntsch who was responsible for many patient injuries and deaths due to botched spine surgery procedures. Duntsch was sentenced to life in prison for his conduct in those cases. Some of the materials related to that case are available on this website. Girards' presentation is available online for CME credit by clicking here.
Girards is licensed on Texas, Oklahoma, and Arkansas. The firm has transitioned from a regional to a national focus.
Jim Girards received the 4th Largest Medical Malpractice Verdict in the State of Texas in 2011, according to a study done by Texas Lawyer Magazine. He has been voted one of Dallas' Best Attorneys by "D" Magazine. In 2011, he was chosen as one of the Top Lawyers in the Country by Newsweek Magazine. He is an instrument-rated private pilot, with ratings for single- and multi-engine aircraft.