2005 Colorado Commercial Driver License Manual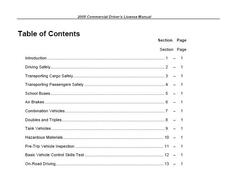 The information in this manual is to assist the commercial motor vehicle (CMV) operator in obtaining their Commercial Driver's License (CDL). If you have questions on traffic rules, signs, point systems, driving standards, or identification requirements this information is available in the Colorado Driver Handbook for the regular license.
Complete the form below to obtain your free copy of the "Colorado Commercial Driver's License Manual".
Order This Offer